Canon CLI 8Magenta colour ip4200 ip5200 ip5200r - 0622B001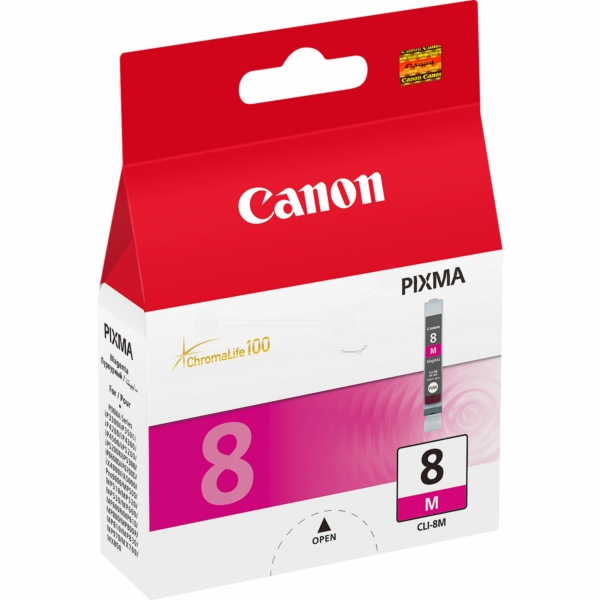 images for illustration purposes only, actual product may differ.
Some things work better together. That's why it makes sense to use Canon genuine inks and photo papers, designed in harmony with PIXMA printers, to deliver the best possible results. See the range of Canon's inkjet photo papers and find the right ink for your printer. For beautiful, long lasting print quality, trust Canon engineered inks.
Compatible Printers: Canon Pixma IP 6600 Series, Canon Pixma MP 600 Series, Canon Pixma MP 800 Series, Canon Pixma MP 520 Series, Canon Pixma IP 4500 X, Canon Pixma IX 4000 Series, Canon Pixma IP 4200 Series, Canon Pixma IP 5200 Series, Canon Pixma IP 4500 Series, Canon Pixma Pro 9000 Series, Canon Pixma IP 6600, Canon Pixma MP 830, Canon Pixma IP 4200 X, Canon Pixma IP 5300, Canon Pixma MX 850, Canon Pixma MP 520 X, Canon Pixma IP 4300, Canon Pixma MP 610, Canon Pixma IP 4500, Canon Pixma MP 520, Canon Pixma MP 530, Canon Pixma MP 800 R, Canon Pixma MX 700, Canon Pixma IP 6600 D, Canon Pixma MP 810, Canon Pixma IP 4200, Canon Pixma IX 5000, Canon Pixma MP 600, Canon Pixma MP 800, Canon Pixma IP 5200 R, Canon Pixma MP 500, Canon Pixma IX 4000 R, Canon Pixma IP 3300, Canon Pixma MP 600 R, Canon Pixma MP 970, Canon Pixma IP 5200, Canon Pixma IP 3500, Canon Pixma IX 4000, Canon Pixma MP 510, Canon Pixma Pro 9000 Mark II, Canon Pixma IP 6700 D, Canon Pixma Pro 9000
More Information
SKU
0622B001
EAN
4960999272702
Specification

Technical details
Printing colours
Magenta
Print technology
Inkjet printing
Colour
Yes
Features
Type
Original
Ink type
Pigment-based ink
Multipack
No
Printing colours
Magenta
Print technology
Inkjet printing
Colour
Yes
Compatibility
PIXMA iP3300, PIXMA iP3500, PIXMA iP4200, PIXMA iP4300, PIXMA iP4500, PIXMA iP5200, PIXMA iP5200R, PIXMA iP6600D, PIXMA iP6700D, PIXMA MP500, PIXMA MP520, PIXMA MP530, PIXMA MP600, PIXMA MP610, PIXMA MP800, PIXMA MP800R, PIXMA MP810, PIXMA MP830, PIXMA MP950, PIXMA MP960, PIXMA MP970, PIXMA MX700, PIXMA MX850, PIXMA Pro9000, PIXMA Pro9000 Mark II
Quantity per pack
1 pc(s)
Packaging data
Quantity per pack
1 pc(s)

Manufacturer
Canon