HP Q7553A 53A Black LaserJet Toner Cartridge 3000 pages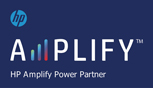 HP Original Laser Toner Cartridge
Page life: 3000
Black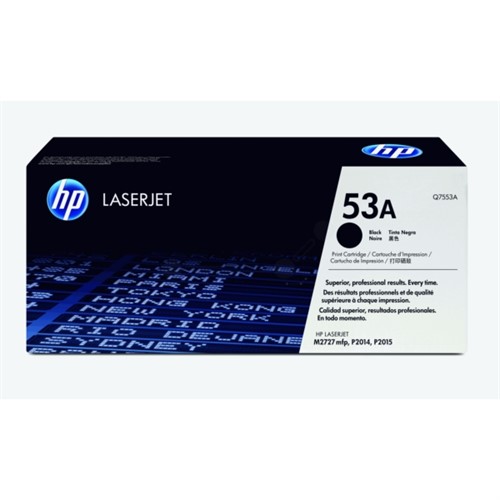 images for illustration purposes only, actual product may differ.
Ideal for day-to-day printing of a variety of monochrome documents that often represent the company image to customers.
HP 53 LaserJet Toner Cartridges cartridges deliver consistent performance and professional results so you stay productive.
- Exceptional quality for high-profile work. Get professional quality on important documents €" fast.
- Better together. For ultimate speed and quality and maximum printer performance, use HP Original LaserJet Cartridges.
- Reliable HP cartridges comprise up to 70% of the total imaging system, ensuring consistent results.
Compatible Printers: HP LaserJet Professional P 2014, HP LaserJet Professional P 2012, HP LaserJet Professional P 2011 n, HP LaserJet Professional P 2015 x, HP LaserJet Professional P 2015 dn, HP LaserJet P 2013, HP LaserJet P 2011 n, HP LaserJet P 2015 Series, HP LaserJet M 2700 Series, HP LaserJet P 2015 DN, HP LaserJet P 2015 X, HP LaserJet P 2015 N, HP LaserJet M 2727 NFS MFP, HP LaserJet P 2015 D, HP LaserJet P 2015, HP LaserJet P 2014, HP LaserJet M 2727 NF MFP, HP LaserJet P 2014 N, HP LaserJet Professional P 2013 n, HP LaserJet P 2012 N, HP LaserJet P 2010 Series, HP LaserJet Professional P 2012 n, HP LaserJet Professional P 2011, HP LaserJet Professional P 2015, HP LaserJet P 2012, HP LaserJet Professional P 2014 n, HP LaserJet Professional P 2000 Series, HP LaserJet Professional P 2015 d, HP LaserJet Professional P 2015 Series, HP LaserJet Professional P 2015 n, HP LaserJet P 2013 N, HP LaserJet Professional P 2013, HP LaserJet P 2011
More Information
SKU
Q7553A
EAN
0882780389267
Specification

Features
Pallet size (EU)
1170 x 780 x 989 mm
Colour
No
Pallet dimensions (W x D x H) (imperial)
1170.9 x 975.4 x 1145.5 mm (46.1 x 38.4 x 45.1")
Euro pallet weight
125 kg
Quantity per EUR-pallet
100 pc(s)
Type
Original
Black toner page yield
3000 pages
Compatibility
HP LaserJet P2014/P2015/M2727MFP
Quantity per pack
1 pc(s)
Brand compatibility
HP
OEM code
Q7553A
Cartridge capacity
Standard Yield
Print technology
Laser printing
Size
11.7 cm (4.61")
Printing colours
Black
Quantity per box
1 pc(s)
Print quality
Cartridge capacity
Standard Yield
Print technology
Laser printing
Printing colours
Black
Weight & dimensions
Package dimensions (WxDxH)
390 x 117 x 168 mm
Width
117 mm
Depth
390 mm
Height
168 mm
Package depth
117 mm
Dimensions (WxDxH)
117 x 390 x 168 mm
Package weight
1 kg
Weight
700 g
Package width
390 mm
Package height
168 mm
Quantity per pallet
150 pc(s)
Pallet dimensions (W x D x H)
1170 x 975 x 1146 mm
Technical details
Type
Original
Brand compatibility
HP
OEM code
Q7553A
Size
11.7 cm (4.61")
Pallet size (EU)
1170 x 780 x 989 mm
Package dimensions (W x D x H)
389.9 x 117.1 x 167.9 mm (15.3 x 4.61 x 6.61")
Colour
No
Quantity per box
1 pc(s)
Pallet dimensions (W x D x H) (imperial)
1170.9 x 975.4 x 1145.5 mm (46.1 x 38.4 x 45.1")
Euro pallet weight
125 kg
Quantity per EUR-pallet
100 pc(s)
Compatibility
HP LaserJet P2014/P2015/M2727MFP
Operational conditions
Storage temperature (T-T)
-20 - 40 °C
Storage relative humidity (H-H)
10 - 90%
Operating temperature (T-T)
10 - 32.5 °C
Operating relative humidity (H-H)
20 - 80%
Logistics data
Pallet weight
171 kg
Quantity per pallet
150 pc(s)
Quantity per EUR-pallet
100 pc(s)
Other features
Pallet size (EU)
1170 x 780 x 989 mm
Package dimensions (WxDxH)
390 x 117 x 168 mm
Package dimensions (W x D x H)
389.9 x 117.1 x 167.9 mm (15.3 x 4.61 x 6.61")
Colour
No
Pallet dimensions (W x D x H)
1170 x 975 x 1146 mm
Pallet dimensions (W x D x H) (imperial)
1170.9 x 975.4 x 1145.5 mm (46.1 x 38.4 x 45.1")
Euro pallet weight
125 kg
Packaging data
Package depth
117 mm
Package weight
1 kg
Package width
390 mm
Package height
168 mm
Package dimensions (WxDxH)
390 x 117 x 168 mm
Package dimensions (W x D x H)
389.9 x 117.1 x 167.9 mm (15.3 x 4.61 x 6.61")

Manufacturer
HP