HP Education Learning Partnership


Trade in Criteria



Receiving your Trade in reward is easy. You simply need to send us a laptop or desktop of any brand.



To be eligible for trade-in, your device must meet the following criteria:



Your device sent must be in reasonable working condition (reasonable wear and tear is acceptable)

It must be 10 years old (find out how to check the age of your trade in device on our support page

It must be able to power into either windows or Mac OS and be sent with its charging cable, battery (which allows the device to run under its own power for a minimum 15 minutes) and any other accessories needed to power on the device.

So long as your device fully meets these conditions, your trade in reward is guaranteed! You will be paid £100 for each eligible trade in device.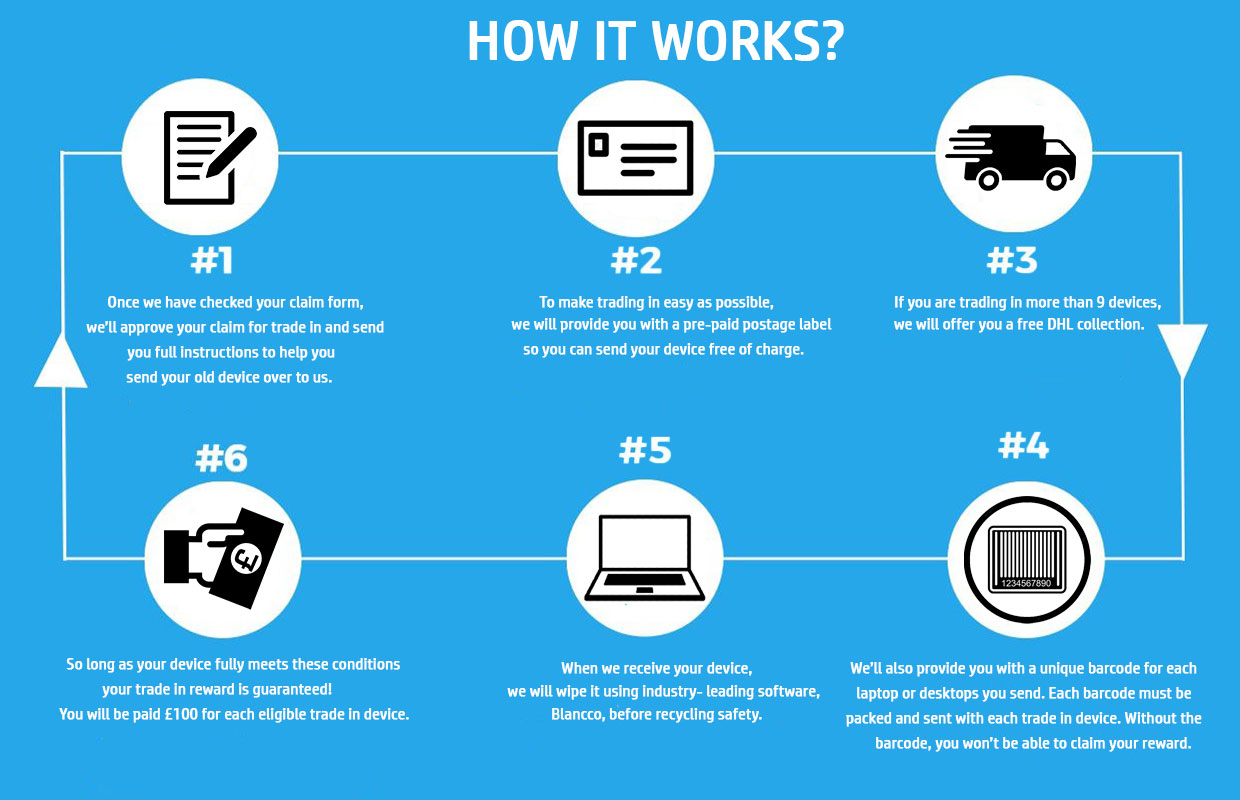 FAQ's
How do I take part in this promotion?



To get your trade-in reward, simply follow these steps:

1. Purchase a new eligible HP laptop or desktop laptop from a HP EDU Amplify Partner between 1st April - 31st October 2021.

2. Submit your online claim within 30 days of purchasing your new HP device.

3. We'll let you know within 2 working days whether your claim has been approved.

4. When you receive your approval email, send us your trade-in device by following the instructions provided. Your trade-in will need to reach us within 30 days of you receiving your approval email.

When we receive your trade-in device, it will be checked by our technicians. So long as it meets the trade-in criteria, we will validate your claim and send your cash payment within 30 days of your claim being validated.



Need More Help?



You can find even more information about how to claim your trade-in reward on the How it Works page. You can also find a list of all the eligible products and participating resellers on the Can I Claim? page. For more information about trade-in devices, visit the Qualifying Trade-in page.



How many times can I claim?



Your school or academy can trade-in up to 100 devices per claim and a maximum of 250 devices over the duration of the promotion.



My new HP device is not listed as an eligible product. Is it eligible for the promotion?



To be eligible to claim, you'll need to have bought a product listed on the Can I Claim? page. Unfortunately, if your product isn't listed here, you won't be able to claim.



Is my old device acceptable for trade-in?



For your old laptop or desktop to be accepted for trade-in, it must meet the trade-in criteria. You can check this by visiting our Qualifying Trade-in page.



What is considered reasonable wear and tear?



Minor scratches and worn marks that would reasonably be expected from sensible use of the device over 10 years are considered reasonable wear and tear.



Why can't I select my purchase date when submitting a claim?



If you're unable to select your purchase date when submitting your claim, this will be for one of the following reasons:



You've missed the claim window?



You need to submit your claim within 30 days of the date of purchase to be able to take part in this promotion.



You didn't make your purchase during the promotional period?



To enter this promotion, you'll need to have made your purchase between 1st April and 31st October 2021.
CONTACT US
Technoworld PLC
Unit 4,
Hurricane Trading Estate,
Grahame Park Way,
off Avion Crescent Colindale,
London
NW9 5QY
Registered in England & Wales
Company Reg No 03036218
VAT No 656836103
Sales
Tel: 0208 200 2000
Fax: 0871 855 2099
Email: sales@technoworld.com
Times: Mon-Fri 9.00am - 5.45pm
Support
Tel: 0208 200 2000
Fax: 0871 855 2099
Email: support@technoworld.com
Times: Mon-Fri 9.30am - 5.00pm
Careers
Email: careers@technoworld.com
Message us